Top Considerations When Buying a Hyundai SUV | Harlingen, TX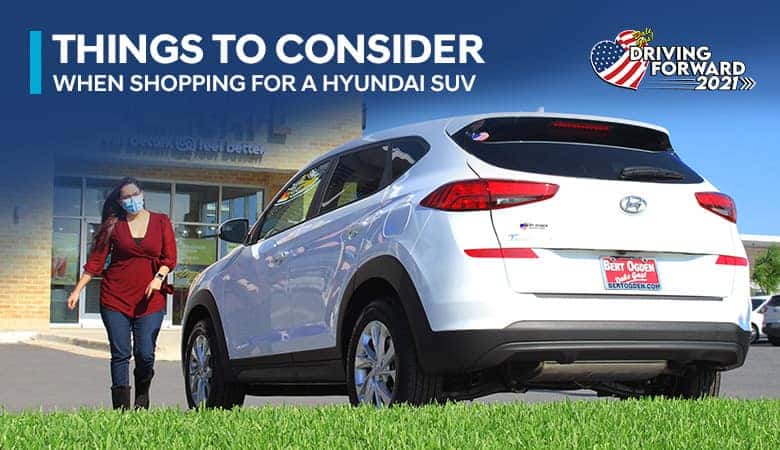 SUVs serve a wide range of driving needs, whether you regularly tow a boat or trailer, have a large family, need something fuel-efficient for your daily commute, or just need the versatility that your hectic life demands. Family-owned Bert Ogden Hyundai in Harlingen, Texas, has the Hyundai SUVs to meet all those needs and more, including the Venue, Kona (and Kona N and Kona Electric), Tucson (and Tucson Hybrid), Santa Cruz, Santa Fe (and Santa Fe Hybrid), Palisade, and NEXO Fuel Cell. All are available for purchase via Express Checkout, a 100 percent online and contactless way of buying an SUV amid the coronavirus pandemic.
But how do you know which SUV is right for you? Here are a few things to consider.
How Big Is Your Family?
If it's just you, you and a partner, or maybe you and a couple of kids or a big four-legged friend, you probably could do with a smaller SUV, like the urban compact Venue or the compact Kona. But if you have plenty of children, live in a multi-generational home, or go on regular road trips with lots of friends, consider something with more space, like the Palisade or Santa Fe.
How Will You Use the SUV?
Are you looking for a daily commuter? Then go with something more fuel-efficient, like any of the smaller Hyundai SUVs or even a hybrid, electric, or hydrogen fuel cell. But if you want something for off-road adventures, the Santa Cruz is the ideal SUV for you. Do you regularly haul a boat down to the Gulf? Think about the Palisade or Santa Fe.
What's Your Budget?
The Hyundai SUV lineup ranges in price. The most affordable SUVs tend to be the smaller ones, while the larger SUVs with more standard technologies come with a higher price tag. Set a budget before falling in love with an SUV you can't afford.
---
Check out the 2021 lineup of Hyundai SUVs at Bert Ogden Hyundai in Harlingen, Texas.