Road Trip Rundown | Harlingen, TX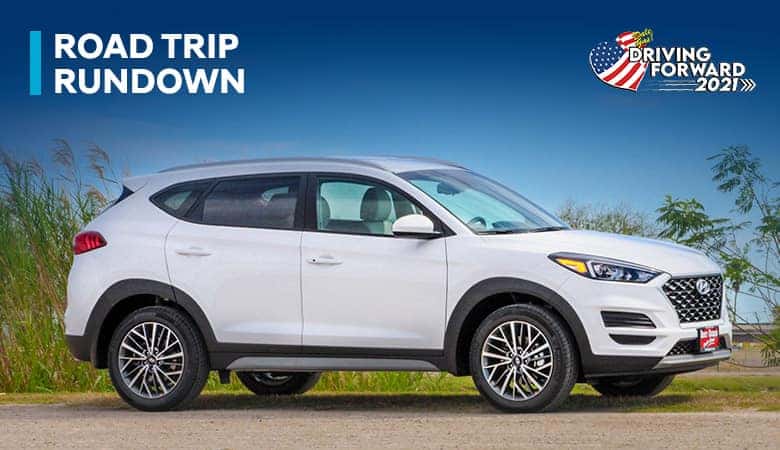 Are you and the family packing up the car and heading out from Harlingen, Texas, in search of family fun on a road trip? Congrats — you're about to make memories that will last a lifetime. But before you head out, read our road trip rundown to make sure you've checked all the boxes and are good to go.
Get Your Maintenance Done Now
Other than packing essentials and making sure your house and pets are well cared for (if the pets aren't coming with, that is!), the most important thing you can do before leaving for a road trip is getting your vehicle its routine maintenance. In general, cars, trucks, and SUVs need an oil change roughly every 5,000 miles. If you are anywhere near that milestone and intend to drive far enough on your trip that you will surpass it, it's a good idea to schedule service at Bert Ogden Hyundai. We can handle the routine oil change, tire rotation, and any other regular maintenance needs, but we can also provide a thorough multi-point inspection to ensure there aren't any major issues with your vehicle before you hit the road.
Pack Healthy Snacks
Don't fall prey to fast food and gas station snacks all trip. Save money and stay healthy by loading up a cooler and snack bag with healthy options. First and foremost, pack bottled water so that you never get dehydrated, especially if you will be taking lots of hikes on your trip. Healthy snacks to eat on the go include fruits and veggies, mixed nuts, trail mix, and protein bars. You can also pack sandwiches, tortilla chips, and yogurt. Don't forget (compostable!) plates, bowls, and utensils, and always bring a regular trash bag for trash and a clear bag for recycling.
Plan Some Fun Games
Phones, tablets, and even laptops can make long drives go by faster for your children, and a little screen time is OK. But you should also encourage them to read (if it won't make them nauseous) or even play some games. You can play classics like 20 Questions, Would You Rather, and I Spy, or try some road trip-specific games. Some examples include:
License plate BINGO
The alphabet game
The cow on my side game

Here are some family-friendly road trip games we recommend, as well as games for an adults-only road trip.
Keep Your Pets Safe
If you are bringing your four-legged friends along, make sure they are safe when traveling. For starters, make sure they get enough water throughout the day and stop to let them eat their meals. Let them get out for potty breaks every time you stop for yourselves.
Don't recirculate air when running the AC, as it makes it harder for fresh, cold air to get to the back where pets are traveling. On that note, pets should not travel up front, nor should they roam free during a trip. Invest in a travel crate or a safety harness that attaches to a seatbelt.
Finally, do not travel with dogs in the bed of your pickup truck, and do not let your dog hang its head out of the window. Dogs can be hit with debris; when traveling at faster speeds, this can be quite harmful.
Do It All on a Budget
You don't have to spend lots of money on your road trip. Making family memories on the open road can be super affordable. Here are some ways to cut back on costs:
Take a tent. Skip the expensive hotel and opt for tent camping instead.
Avoid peak travel season. Gas, lodging, food, and attraction prices all go up during travel season, especially in tourist towns.
Spend time outside. No need to shell out cash for Disney World when you can explore a national park quite affordably.
---
If your vehicle needs more than just maintenance to be up for a road trip, contact us at Bert Ogden Hyundai to learn more about new vehicles you can bring home.