Hyundai Kona: A Top Car for Recent College Grads | Harlingen, TX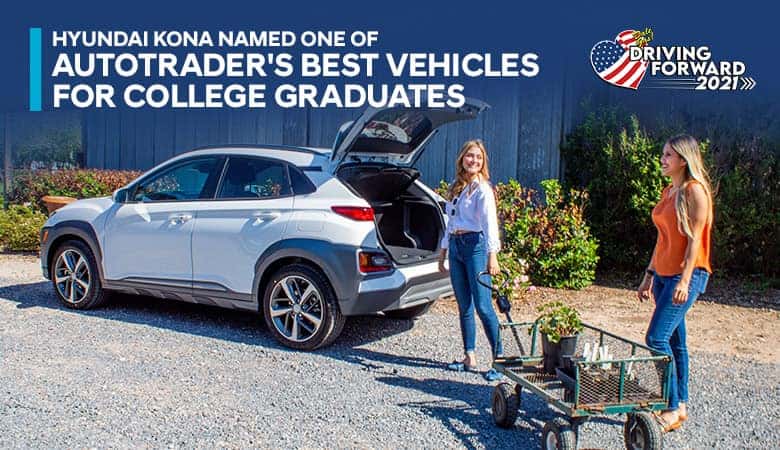 The 2020 – 2021 school year was one for the books, that's for sure. College seniors underwent the most unusual academic school year on record, dealing with virtual or hybrid learning during the pandemic — but they've finally made it!
If you are a new college grad without a set of wheels, now is the time to start shopping. Ahead of your new full-time job, you are going to need a vehicle to get you to interviews and eventually the office (when things have fully reopened). Even if you're heading to grad school or taking some time to figure things out, a new vehicle could serve you well. A cross-country road trip is a great way to celebrate graduating with your associate or bachelor's degree.
Enter the Hyundai Kona
Far be it from us at Bert Ogden Hyundai in Harlingen, Texas, to tell you just which vehicle you should buy to celebrate your graduation. Instead, we will defer to the experts at Autotrader. In fact, Autotrader just published a list of the 10 Best Cars for Recent College Graduates.
And, wouldn't you know it? The Hyundai Kona, from model years 2018 to 2020, made the cut.
Why the Hyundai Kona?
Editors at Autotrader ranked the Hyundai Kona fourth overall. Specifically, they pointed to its small size, stylish design, and leading infotainment tech as reasons that young college grads would like the Kona. Its affordable price tag and fuel-sipping tendencies (thus less money spent at the gas station) are great for recent college grads living on entry-level salaries and bracing for student loan payments.
Even with its low price, though, the Hyundai Kona offers impressive safety technology, ample cargo room, and head-turning exterior colors that embrace youthfulness. Some of the most memorable colors on recent Hyundai Kona models have included Surf Blue and Lime Twist.
---
Contact Bert Ogden Hyundai in Harlingen, Texas, to learn more about the Hyundai Kona.