Guide to Buying Your First Car | Harlingen, TX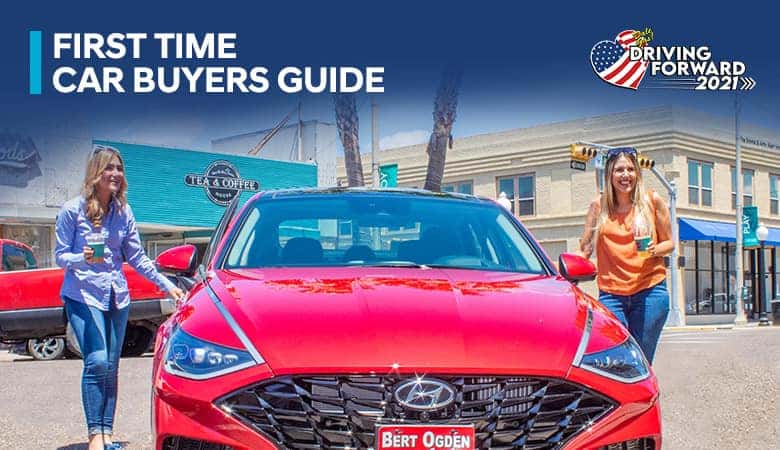 Buying your first car in Harlingen, Texas, is a big moment. Whether you are a teenage driver new to the scene or someone who has relied on public transportation your entire adult life, it can be overwhelming to enter the world of car sales, whether buying new or used. That's why we at Bert Ogden Hyundai have put together this handy guide. Use it whether you plan to buy a new Hyundai Santa Fe or Elantra from our dealership or a used model from any automaker on our lot.
Start with Your Budget and Loan
Before you do anything else, you need to determine:
How much you can afford to spend (or are comfortable spending)
What kind of loan lenders are willing to offer you
Start by looking at your savings and deciding how much you're willing to put aside as a down payment. You should also look at your monthly income to determine what kind of monthly payment you can afford. Don't forget to include things such as car insurance premiums, routine maintenance, and even fuel prices into your budget. Once you've settled on an amount, you'll be able to start figuring out what types of vehicles you can afford.
Before you go off finding the perfect car, though, make sure you can be pre-approved for a loan. You can start with your personal bank to see what kind of loan it is willing to offer, but you should always compare it to quotes from a few other financial institutions (the lower the APR, or interest rate, the better). Our finance team is happy to do this work for you, getting quotes from quite a few different lenders and offering you the best option.
Research, Research, Research
Whether buying new or used, we highly recommend researching vehicles online before coming to the dealership. You will be able to see what cars, trucks, and SUVs are available and which might fit your needs. If you are buying used, you can even read in-depth professional and customer reviews of that model and year.
While trying to narrow down your search, think about what you want and need out of a vehicle. Is this a daily driver for a solo commute into the city each day, or will you be schlepping around kids to doctor visits and soccer practice? Do you want to travel often — and will you be prioritizing luggage space, kid and pet safety, or raw towing power for the boat or RV?
When researching, we recommend reading reviews, looking at safety ratings, and even taking virtual test drives.
Test Drive Your Top Contenders
Speaking of test drives, we highly recommend test driving a vehicle before signing on the dotted line. This is especially true if buying used.
When buying new, don't worry about the color or specific trim. We can order a vehicle to your exact specifications; just focus on how the vehicle drives and how comfortable you are in it.
If buying used, always ask for a vehicle history report, and then take the car on a test drive to a reputable mechanic for a thorough inspection.
Obtain Insurance
You cannot legally drive a vehicle off our lot without insurance. Before coming in to buy, make sure you will be insured as soon as you have bought the vehicle. We recommend comparing quotes online to get the best deal.
Stay on Top of Routine Maintenance
You have bought your new car — congratulations! But the work isn't over. You will need to keep up with routine maintenance to help ensure it lasts for years to come. Taking care of regular maintenance at our dealership is much more affordable — and much safer — than ignoring maintenance and paying for massive repairs later.
---
Contact Bert Ogden Hyundai in Harlingen, Texas, to learn more about our well-stocked inventory of new and used cars.